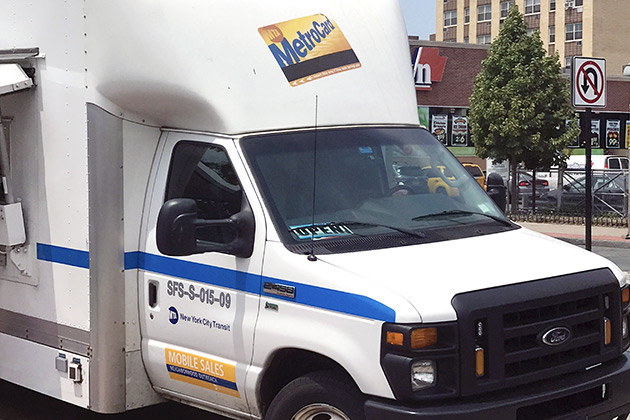 The full-service MetroCard van will make its rounds in Westchester to assist riders who are interested in purchasing MetroCards.
Staffed by MTA New York City Transit Authority and Westchester County Department of Public Works and Transportation employees, the van is a "one-stop shop" and is equipped to assist bus riders with all of their MetroCard business. Riders will be able to buy a regular MetroCard, apply for a Reduced-Fare MetroCard if they are 65 and older or have qualifying disabilities and refill their existing MetroCards.
MetroCard is the automated regional fare collection system managed by the Metropolitan Transportation Authority.
For more information on the MetroCard Van and other MetroCard locations, call the Bee-Line Hotline at (914) 813-7777.
Metrocard Van Schedule
Monday, Dec. 17
10 a.m. - noon
New Rochelle: Huguenot Street/North Avenue
1 p.m. - 3 p.m.
Mount Vernon: August Petrillo Plaza (across from Food Town Supermarket near Mount Vernon East Train Station)
Tuesday, Dec. 18
10:30 a.m. - 12:30 p.m.
Peekskill: Peekskill Library
1:30 p.m. - 3 p.m.
Tarrytown: Wildey and Cortlandt Streets (by McDonalds)
Wednesday, Dec. 19
10 a.m. - noon
Yonkers: City Hall MCU Building, 36-40 South Broadway
2 p.m. - 3:30 p.m.
White Plains: Trans-Center Water Street and North Lexington Avenue
Thursday, Dec. 20
10 a.m. - noon
Yonkers: City Hall MCU Bldg. 36-40 South Broadway
2 p.m. - 3:30 p.m.
White Plains: Galleria Mall/Forever 21 Main St./MLK Blvd.
Friday, Dec. 21
9 a.m. - 2 p.m.
Yonkers: Will Library, 1500 Central Park Avenue/Tuckahoe Road
Saturday, Dec. 22
9:30 a.m. - 12:30 p.m.
Yonkers: City Hall MCU Building 36-40 South Broadway
2 p.m. - 3:30 p.m.
White Plains: Galleria Mall/Forever 21 Main Street/MLK Boulevard
Monday, Jan. 14

10 a.m. - noon
New Rochelle: Huguenot St./North Ave.
1 p.m. - 3 p.m.
Mount Vernon: Petrillo Plaza (Across from Foodtown)
Tuesday, Jan. 15
10:30 a.m. - 12:30 p.m.
Peekskill: Peekskill Library
1:30 p.m. - 3 p.m.
Tarrytown: Wildey Street and Cortlandt Street (By McDonalds)
Wednesday, Jan. 16
10 a.m. - noon
Yonkers: 36-40 South Broadway City Hall/MCU Bldg.
2 p.m. - 3:30 p.m.
White Plains: Trans Center, Water Street and No. Lexington Avenue
Thursday, Jan. 17
10 a.m. - noon
Yonkers: 30 - 40 South Broadway City Hall/MCU Building
2 p.m. - 3:30 p.m.
White Plains: Galleria Mall (Forever 21) Main Street/MLK Blvd.
Friday, Jan 18
9 a.m. - 2 p.m.
Yonkers: Will Library 1500 Central Park Ave./Tuckahoe Road.
Saturday, Jan 19
9:30 a.m. - 12:30 p.m.
Yonkers: 36-40 South Broadway City Hall/MCU Bldg.
2 p.m. - 3:30 p.m.
White Plains:

Trans Center Water Street and North Lexington Avenue