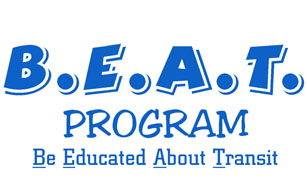 Having a hard time navigating the Bee-Line system? Not sure where to find the bus? Riding Bee-Line's fixed routes can bring increased independence, support an active lifestyle and provide greater access to the community. Our two Transit Education programs, Be Educated About Transit (B.E.A.T.), are provided free of charge to school groups and senior organizations throughout Westchester County.
The B.E.A.T program is a classroom-based transit-safety program geared towards students in grades four, five and six; and the Senior B.E.A.T program is a transit-oriented program designed to assist older adults in learning more about the Bee-Line System.
For more information, call Mary Ellen Burns at (914) 995-1621.